ADVANCED LIFE SUPPORT AMBULANCES
---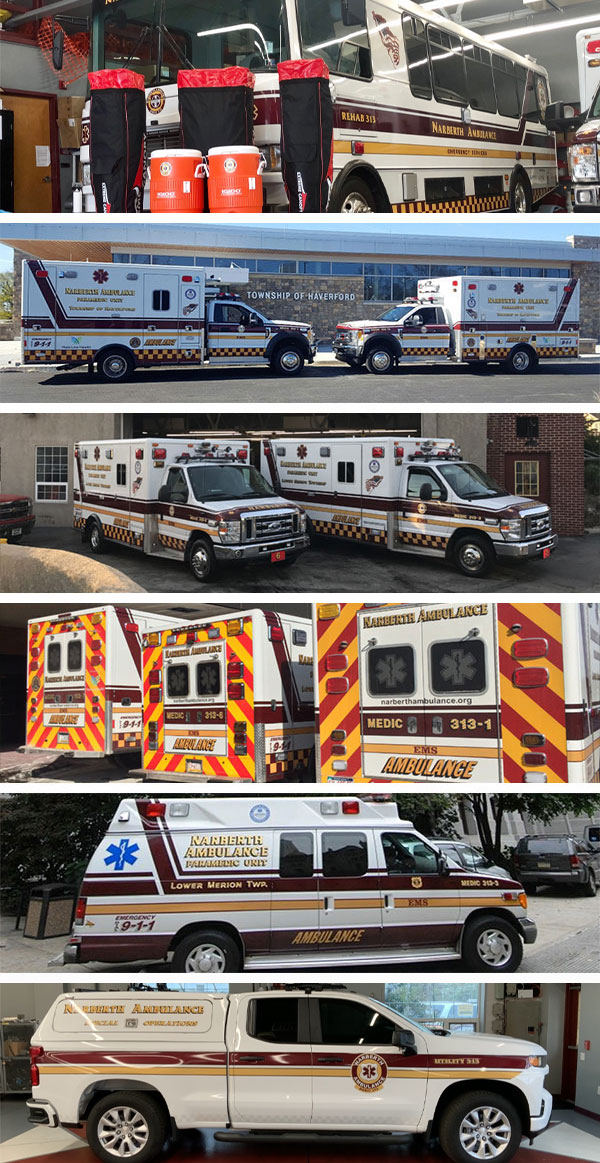 313-1, 3, 5, 6, & 9 – Ford Type III, E-450, Horton 523D
ALS Medic units are equipped with an inverter, Stryker Power Load & Power Cot systems Indoor/outdoor custom cabinetry made to make on-scene care delivery easier. The standardization of the units allows for a seamless transition between units.
313-11 AEV TraumaHawk DR-92 (2019)
This E350 Mini-Mod Type III ambulance is the primary unit for the Conshohocken Station (313-A)
313-2 – AEV Type II Ambulance (2010)
This medic unit is the Backup unit assigned to the Conshohocken station (313-A)
108 and 108A Ford Type I 4×4 F-550 Lifeline build
These ALS units are 4-wheel drive units stationed at the two Haverford Township locations.
Rehab 313, a 2016 Champion Transit/Shuttle Bus
The rehab/ Mass Casualty unit is designed to provide rapid inclement weather heating and cooling options for first responders at extended events and large-scale incidents. In addition, the bus is available for the five-county area for other public safety entities to use as part of the Southeastern Terrorism Task Force. This unit has been dispatched to the 5-county region for all manners of Rehab and Mass Casualty services. The bus can be set up in several configurations. It can handle seated, lying, and wheelchair patients and carries unique cooling fans, and an abundance of supplies to help our surrounding Public Safety Departments.
Responder Units
313-8 Command Vehicle (2020 Chevy Silverado Pickup truck - police interceptor)
313-18 Command Vehicle (2020 Ford Explorer - police interceptor)
313-28 Physician Response Vehicle (2020 Ford Explorer - police interceptor)
313-38 Command Vehicle Conshohocken (2015 Ford Expedition)