SCHEDULE A STANDBY BY NARBERTH AMBULANCE
---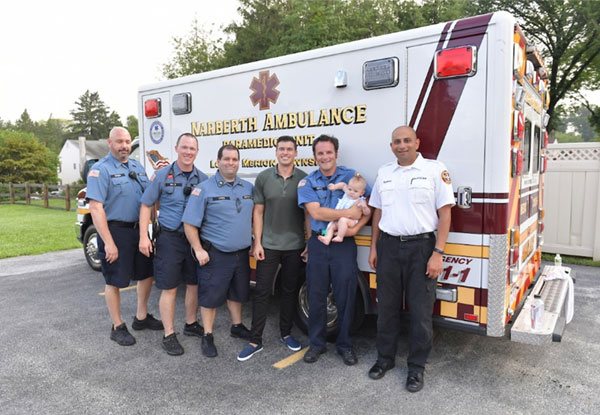 Narberth Ambulance is one of the industry's leading Advanced & Basic life support event medical services provider in the Delaware Valley.
Some of the types of events we have provided services at include:
Community events
Sporting events
Movie / Television / Commercials
Presidential / Dignitary details
We have extensive experience with providing high quality medical care at events. Narberth Ambulance is proud to be the primary medical provider to several organizations, including Episcopal Academy, The Haverford School, Lower Merion School District, Villanova University, Archbishop Carroll, Chestnut Hill College and more. We have ambulances, available for standby service, bicycle teams and various other disciplines. We have been involved in many movie, television and commercial productions, whether to standby and provide medical care or to actually be part of the production. We also handle large-scale events, such as the Susan B. Komen 3 day walk, the Penn/Abramson's Philly Fights Cancer fundraiser, political conventions and Secret Service details.
Whether your event needs a single site medical station, or you need multiple personnel stationed in multiple locations, Narberth Ambulance specializes in providing Emergency Medical Services customized to YOUR needs. We can provide a variety of EMS configurations at your location, and with our partnerships can scale up to as many as you require.
We have on request, Board certified Emergency Medicine Physicians also on staff, which provide on scene Medical direction and care. Our Physicians perform all tasks associated with physicians in the field, acts as the crew chief and provides medical direction to all subordinate EMS staff.
We have the experience to understand and anticipate issues that occur at events. Our personnel are attentive at events, constantly observing conditions, participants, staff, and other attendees. Narberth Ambulance documents all patient contacts following the PA Department of Health guidelines. We have helped many companies and event organizers to determine their needs for events. We provide our own uniformed staff, and state of the art medical equipment. Narberth Ambulance also can provide Rehab medical services for cast & crew in hot and cold weather situations.
To discuss or request standby services, please call 610-645-9601 option: 3.