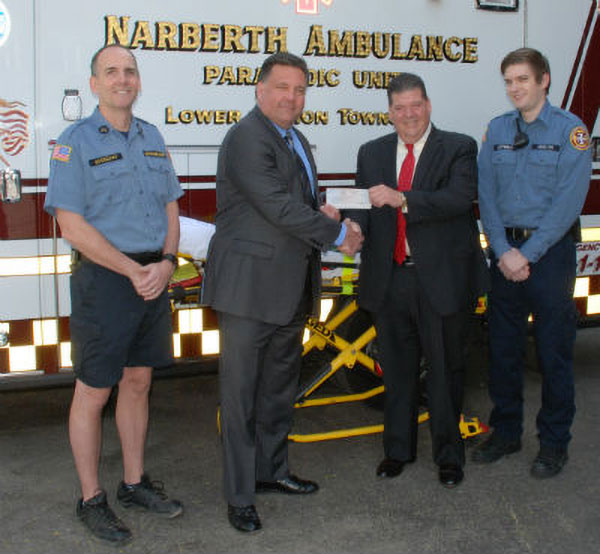 Narberth Ambulance Presented With Check by Main Line Health's Pre-Hospital Services Department
August 7, 2016
Ardmore, PA…Narberth Ambulance has known for years the value of its volunteer physician response program. Now, two of its physician team members – Drs. Ben Usatch and Joseph Bushra – are receiving some well-deserved regional recognition for their efforts by Main Line Today magazine.
Drs. Usatch and Bushra have been named among the area's finest physicians for 2015 by Main Line Today in the Emergency Medicine category. Each year, the publication compiles a list of the top doctors in their specialties. Candidates are selected based on votes from other licensed Pennsylvania doctors. Doctors are not permitted to vote for themselves.
"It is essential to have a team that not only evaluates our emergency medical services (EMS) protocols, but also works individually with paramedics and EMTs to make them better," said Narberth Ambulance Chief of Operations Chris Flanagan. "This award solidifies what we already know – we care about community and care about the providers' work on the street; hence, the training and support we get from these two doctors and the entire Narberth Ambulance physician response team.
Dr. Usatch has been involved in EMS for more than 35 years. He serves as Narberth Ambulance's Medical Director, and holds the position of Montgomery County Regional Medical Director. Dr. Bushra has been involved with EMS for more than 15 years and serves as the Deputy Medical Director for Narberth Ambulance. He also works as an attending physician and is the Director of the Lankenau Hospital Emergency Department. Both physicians work with Narberth Ambulance in a strictly volunteer capacity.
Flanagan said the doctors are responsible for training Narberth Ambulance's paramedics in advanced care and its EMTs in basic care. One of the keys to Narberth's clinical excellence is the emphasis on training. The members are regularly educated in cutting edge life support techniques and procedures. Charts are rigorously reviewed to assure the highest of standards for all care rendered. Providers are given timely feedback and educational initiatives are developed around the quality assurance process.
"Under their leadership, Narberth Ambulance has the first and only single-source EMS physicians unit," said Flanagan. "Not only do they volunteer, but they take turns with the six other volunteer doctors that take the truck and are on the streets working with us to save lives and to help our medics and EMTs improve."
Drs. Usatch and Bushra said they are pleased to be able to volunteer their expertise with Narberth Ambulance to help provide quality emergency medical services to area citizens.
"There are very few areas of greater satisfaction in my job as an Emergency Medical Physician than working with the talented professionals from this organization," said Dr. Usatch. "After 35 years, I remain in awe of the care rendered and the lives saved."
"It is an honor to work with the outstanding caregivers of Narberth Ambulance," added Dr. Bushra. "Our collaboration supports the excellent care delivered in the field, and enables a seamless transition to the hospital environment. The end result is the best possible care for the patient."
The complete article on 2015's Top Doctors can be found at www.mainlinetoday.com.