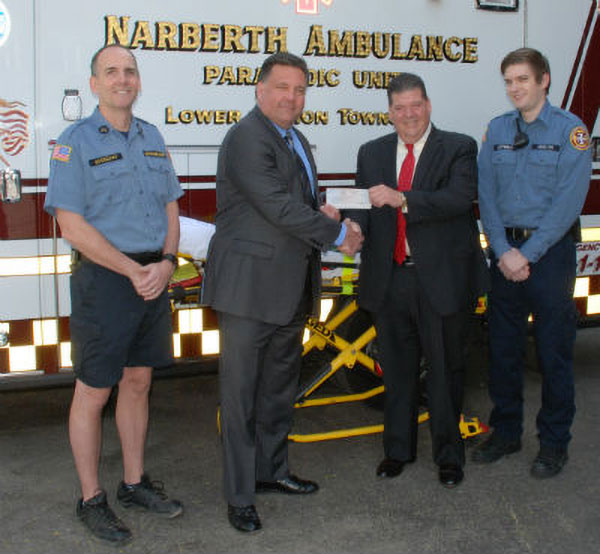 Narberth Ambulance Presented With Check by Main Line Health's Pre-Hospital Services Department
August 7, 2016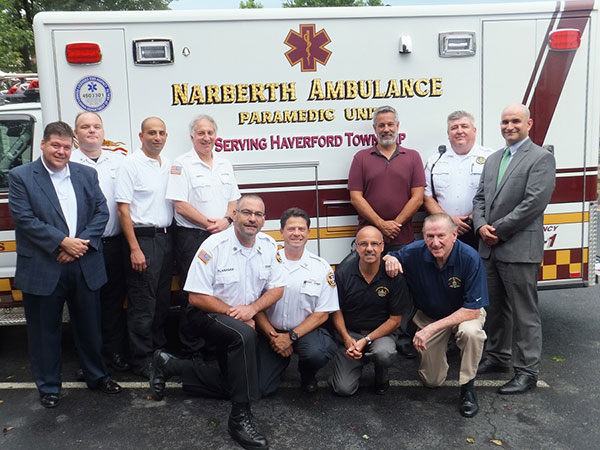 The Township of Haverford Selects Narberth Ambulance as 911 Service Provider: Prepping for a November Transition Begins This Summer
August 9, 2016
By Richard Ilgenfritz
rilgenfritz@21st-centurymedia.com
@rpilgenfritz on Twitter
BRYN MAWR >> Crews from Narberth Ambulance took time out between calls this week to host a few community events geared toward kids and the communities the company serves as part of celebrating Emergency Medical Services Week.
As part of a string of events the company was holding, crew members were scheduled to read to children at a couple of Lower Merion libraries and visit other locations throughout the week.
Tuesday morning, Albert Davey, deputy chief of Narberth Ambulance, and Josh Cohen, a crew chief with Narberth Ambulance, spent time reading books with children at Ludington Library in Bryn Mawr before showing about 50 kids and their caregivers the inside of an ambulance parked outside.
Davey read a Cat in the Hat book called "Inside Your Outside: All about the Human Body" and "Don't Dance in my Ambulance" before the group explored the ambulance in the parking lot.
"We are proud to be the sole 9-1-1 emergency medical services provider 'called to care" on the 95,000 residents we serve," Chief Christopher B. Flanagan said in a statement. "EMS Week is the perfect time for us to showcase what we do and to educate others on how they can support our mission."
Crews were also scheduled to be at the Ardmore Dunkin Donuts on Greenfield Avenue Wednesday at 9 a.m. and then at the Bala Library in Bala Cynwyd on the same day at 10:30 a.m. for another book reading.
Thursday they were planning on having crews at Ricklin's Hardware in Narberth Thursday at 5 p.m. Finally, on Saturday they were planning on being at the Ardmore Community Health Fair at Vernon Young Park on Ardmore Avenue from noon to 3 p.m.